Saturday, January 8, 2011
Desert and Mediterranean, a perfect combination to build beautiful home. Like tis minimalist home design, with simple building forms and bold colors, make your home like no other. Just look at private courtyards with pools, awesome! Rich palette colors make this village like a picture.
The plans epitomize the indoor/outdoor style of living that is so prevalent in the desert and many of the homes come with covered outdoor patios and courtyards. The challenge was to create a plan that can live as a one story but also option to a two story with the addition of a stair. There are 10 plans with three basic first floor layouts. Outdoor casitas and private courtyards with pools are also added to better enjoy the desert lifestyle. Higher ceilings with clearstory windows are included to create dynamic indoor spaces.
Friday, January 7, 2011
This office interior design not only accommodate working activities, but also succeed to express product image which have environment approach & also make a bonafide company look. This office located in Rasuna Office Park, Kuningan, Jakarta, is base of Vidatech Company which have software products. A171 m2 space basic of two parts which become united & have triangle shape so the layout space more complex form usually office. Other unique part is there are low plafond & structural wall of building which across & can not be removed so make difficult to divide the rooms. As first step, designer divided office layout become two zone based on room program & use two accesses from old office. First zone consist of main access for staff & guest, main door, staff area, services area, two director room, & informal meeting room.

Second zone consist of special client access, formal meeting room, & management room. As a link of these two zones, there is lounge with café atmosphere. The floor is higher than the others. Those room order match with office needed which give attention to be representatives & marketing office, not the production.

In concept, owner & designer agree to express software product image in to interior design, & the concept get shape at capsule concept. This concept formulated as space with modular capsule shape with certain wall in round shape. Technically, all of structural wall let it flat, but other partition walls made curved with wooden skeleton & covered with panels laminated Formica Aluminum otherwise wooden profile in horizontal lines & deco finishing. This seems clear started from stairs area & main door, until formal meeting room until open ver&a which goes to lounge area.

Designer also applied rounded or curved shape at dropped down ceiling, explicated with indirect lightning lamp applied inside like seem in lounge area. Designers also cope to formed transparent, light, & sophisticated impression with applied fabrication material & up to date finishing. For example, almost of room partitioned with clear glasses from floor until plafond & frameless. Walls, plafond, floor dominated with gray & white color. As a room focus, there are digital printings with photos of sea living & attractive colors at certain walls. At staff room, filing cabinet from supercon material & acrylic finishing created, glossy with orange color to give spirit & joy of work. Lounge floor covered with 12 mm glass so indirect lightning more live.

Ultramodern office impression explicited with thematic lightning. For example, formal meeting room has blue lightning, so make dramatic impression, as if we inside sea. Last, furniture in this office is ergonomic, it means shape, measurement, & chair construction can prop up user body appropriate with user's gesture & posture. Material & chair finishing do not use wood & usually seats, but have special material which flexible, strong, & sophiscated. These chairs have hollow shape, dynamic, sporty, light, & brief because stackable also easy to moved follow office activities (multipurpose).

Source : http://archinspire.com/


This is a minimalist house design level two on the beach. Perry Point beach house is a minimalist two-level house located in Coolum, Sunshine Coast, Queensland, Australia. A beach home renovation project of the 1990s Architect Owen and Vokes. The new owner wants additional bedroom, bathroom and garage to house their cars. Manipulation of the existing building and the natural topography to
Wednesday, January 5, 2011
Interior Decoration
House Interior Design
Interior Design Styles
A modern contemporary interior design is meant for those, who prefer their homes to be clutter free and functional, at the same time very elegant and stylish. What we today refer to as modern contemporary interior designs, actually became popular in Europe initially, before coming to America in the late 1950's.

Luxury Contemporary House Design
Living room designs
Living room decoration ideas
Contemporary style interior design is based on the concept of keeping the interiors home of theor the office very simple and uncomplicated. There is minimum usage of furniture and accessories, while there is great emphasis laid on optimum space utilization. If you too are planning such practical and elegant interiors for your home, then here are some modern contemporary interior design ideas which you will find handy. Read more on home decorating.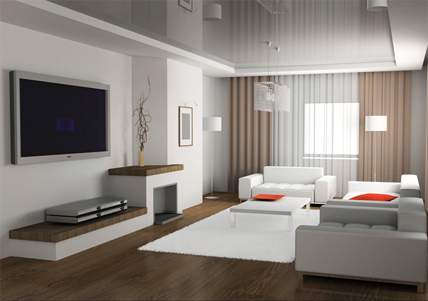 living room Furniture
Elegant Sofa for Modern Living Room – Lacon
Living room furniture ideas
Modern living room furniture
Minimum furniture is used. The size of the beds or the sofas ranges from small to average. Beds are low lying and made from metal or light woods. Platform beds and Italian leather beds look good in a modern house. In the bedroom, except for two side tables and a closet, there is no need of any other furniture item and even if chairs tables and are placed in a bedroom,

modern bedroom
Modern bedroom interior design ideas
Luxury bedroom interior ideas
Luxury modern bedroom design
care should be taken that only those which have a streamlined look, should be purchased. For the living room, one can place sofas of different geometrical shapes, such as round or an L shape. Sofas are sleek and designed in such a way that they occupy as minimum a space as possible. Read more on modern bedroom furniture plans .
Kitchen luxury design
Design ideas for the modern kitchen
Modern kitchen interior designs
When it comes to modern contemporary interior designs, futuristic colors such as silver, bronze, copper and blue, are the most apt. People interested in using bright colors for their home, can use orange and green. Green being an eco friendly color is considered very modern and is quite a rage nowadays. Avoid loud colors such as maroon or traditional common colors such as pink, while designing a modern house. Pastel shades are another good option for a modern home.

The fabric for upholstery, curtains, table cloth, etc. in a modern house should be very soft and soothing. Fabrics which have geometric designs on them look very good in a modern house. Heavy, coarse or velvety fabrics should be completely avoided in a modern house.
traditional homes
Luxury House with a Modern Contemporary Interior
Luxury Contemporary House Design
Modern House Design
Unlike traditional homes, where accessories are used liberally, modern homes make use of minimal accessories, which occupy very less space on the walls. Night lamps and chandeliers made of metal are some of the commonly used accessories in a modern house.